DisplayMate – Face Detection Content Triggering
Face Detection Software
Trigger Targeted Content Display
Dwell Time Reporting
Customised Options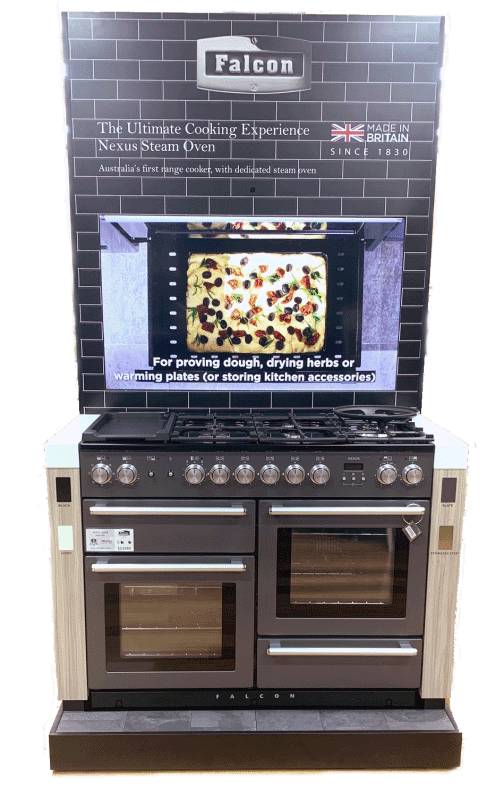 Cloudtronics utilised our universal DisplayMate hardware motherboard and software plugins to create a face detection content triggering system for Falcon Cookers we called the OvenMate.
The product scope was provided to Cloudtronics and then within six weeks we provided the working prototype to the client. The system has an integrated cloud-based face detection and dwell counter that will record all the interaction with the system and be able to produce reports on demand.
The OvenMate's content can be uploaded and triggered for specific product marketing events to determine marketing effectiveness. All hardware, software and cloud services were developed by Cloudtronics.
Products are tailored to suit client's requirements and can include more demographics including Gender Age and Ethnicity. This recorded data can provide valuable marketing data as well trigger suitable content targeting the specific demographic. Different content can be displayed to a male or female audience, couples as well as age ranges and ethnicity.
Pre-sales engineering and technical support
Cloudtronics are able to offer pre-sales support on all related aspects of DisplayMate.
Our toll free number for Australia wide is 1800 876 642.
If you have any questions – drop us a line.

CLOUDTRONICS PTY LTD
FreeCall: 1800 876 642
Phone:    +612 8078 2207
Fax: +612 9012 0641
sales@cloudtronics.com.au
Head Office
Unit 1 / 6 Powells Road,
Brookvale, Sydney, N.S.W 2100,
AUSTRALIA
Phone: +612 8078 2207
Melbourne Office
Telstra Logistics Centre
11 Corporate Drive,
Cranbourne West,
Victoria, Australia 3977
Phone: +613 8679 4575
USA R&D Lab
48233 Warm Springs Blvd,
Fremont, CA
USA
Phone: +1 510 2985772
Indonesia Office
West Park B-23 Jl. Boulevard Barat BSD City Pagedangan, TangerangBanten 15336
Phone: +62 21 5085 8721
sales@cloudtronics.co.id

CLOUDTRONICS PTY LTD
FreeCall: 1800 876 642
Phone:    +612 8078 2207
Fax: +612 9012 0641
sales@cloudtronics.com.au
Head Office
Unit 1 / 6 Powells Road,
Brookvale, Sydney, N.S.W 2100,
AUSTRALIA
Phone: +1 510 2985772
Melbourne Office
Telstra Logistics Centre
11 Corporate Drive,
Cranbourne West,
Victoria, Australia 3977
Phone: +613 8679 4575
USA R&D Lab
48233 Warm Springs Blvd,
Fremont, CA
USA
Phone: +1 510 2985772
 Indonesia Office
West Park B-23,
Jl. Boulevard Barat BSD City Pagedangan,
Tangerang Banten 15336 Indonesia
Phone:| +62 21 5085 8721
sales@cloudtronics.co.id