SMART SUN SCREEN DISPENSER
Ethernet and 4G capable versions
SMS and Email Sun Screen Levels Alert System
Cloud CMS for System Settings and Management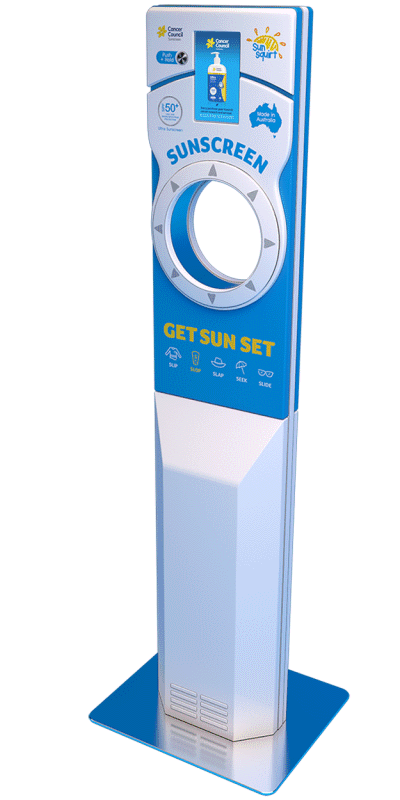 Smart Sun Screen Dispenser
Cloudtronics utilised our universal FluildMate hardware motherboard and software plugins to create a product called SunSquirt. Please see teh SunSquirt website for more information.
The electronic hardware, fluid delivery and cloud supported portal was developed for SunSquirt for the Smart dispensing of Sun Screen.
This system has built-in content display management controlled by our cloud portal which also includes the SunSquirt device settings and live statics on fluid levels.
SMS and email alerts are also incorporated into the system to assist SunSquirt and their clients to manage and maintain the devices.
Cloudtronics is proud to be able to support and work closely with Mr McGhee from SunSquirt in the journey with the kiosks.
Pre-sales engineering and technical support
Cloudtronics are able to offer pre-sales support on all related aspects of SANMate.
Our toll free number for Australia wide is 1800 876 642.
If you have any questions – drop us a line.

CLOUDTRONICS PTY LTD
FreeCall: 1800 876 642  Phone: +612 8078 2207  Fax: +612 9012 0641  sales@cloudtronics.com.au
Head Office
Unit 1 / 6 Powells Road,
Brookvale, Sydney, N.S.W 2100,
AUSTRALIA
Phone: +612 8078 2207
Melbourne Office
Telstra Logistics Centre
11 Corporate Drive,
Cranbourne West,
Victoria, Australia 3977
Phone: +613 8679 4575
USA R&D Lab
48233 Warm Springs Blvd,
Fremont, CA
USA
Phone: +1 510 2985772
 Indonesia Office
West Park B-23,
Jl. Boulevard Barat BSD City Pagedangan,
Tangerang Banten 15336 Indonesia
Phone:| +62 21 5085 8721
sales@cloudtronics.co.id